Application
Newest cast hot line clamp in aluminum or brass body,it can be used for connecting wire made of  aluminum or brass.
Features
1. Clamps' Bronze Alloy and Aluminum Alloy castings offer high strength,corrosion    resistance,conductor compatibility
2. Extended jaw width means excellent conductor contact,reduced joint temperature minimal conductor cold flow.
3. Spring loaded feature compensates for cold flow and offsets tightening torque vibrations.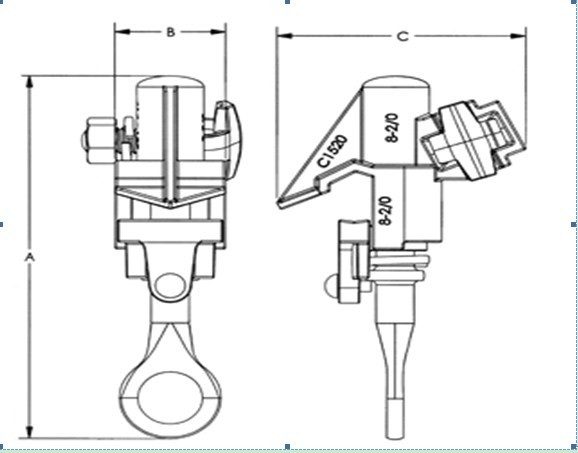 Catalog

Number

Connection Type Run

Connection Type Tap

Run Dia.

Run

Tap

 Dia.

Tap

A

B

C

Tap Nut

Standard

  Pack

C1520

CU

CU

0.128″-0.414″

#8 sol-2/0 str

0.128″-0.414″

#8 sol-2/0 str

4.50

1.25

2.75

9\16

25

C1520P

CU

CU

0.128″-0.414″

#8 sol-2/0 str

0.128″-0.414″

#8 sol-2/0 str

4.50

1.25

2.75

9\16

25

C1520A

AL

AL

0.128″-0.414″

#8 sol-2/0 str

0.128″-0.414″

#8 sol-2/0 str

4.50

4.50

2.75

9\16

25

C1520AP

AL

AL

0.128″-0.414″

#8 sol-2/0 str

0.128″-0.414″

#8 sol-2/0 str

4.50

4.50

2.75

9\16

25

C1530

CU

CU

0.162″-0.745″

#6 sol-400MCM

0.152″-0.682″

#6 sol-4/0 str

6.50

1.75

2.50

3\4

25

C1530P

CU

CU

0.162″-0.745″

#6 sol-400MCM

0.152″-0.682″

#6 sol-4/0 str

6.50

1.75

2.50

3\4

25

C1530A

AL

AL

0.162″-0.745″

#6 ACSR-336.4MCM

0.152″-0.682″

#6 sol-4/0 str

6.50

1.75

2.50

3\4

25

C1530AP

AL

AL

0.162″-0.745″

#6 ACSR-336.4MCM

0.152″-0.682″

#6 sol-4/0 str

6.50

1.75

2.50

3\4

25

C1540

CU

CU

0.502″-1.031″

4/0 ACSR-800MCM

0.198″-0.703″

#4 sol-350MCM

6.50

2.00

3.00

3\4

25

C1540P

CU

CU

0.502″-1.031″

4/0 ACSR-800MCM

0.198″-0.703″

#4 sol-350MCM

6.50

2.00

3.00

3\4

25

C1540A

AL

AL

0.502″-1.031″

4/0 ACSR-800MCM

0.198″-0.703″

#4 sol-350MCM

6.50

2.00

3.00

3\4

25

C1540AP

AL

AL

0.502″-1.031″

4/0 ACSR-800MCM

0.198″-0.703″

#4 sol-350MCM

6.50

2.00

3.00

3\4

25