In this text, we discuss the topic of Tinplate Production Process. In this article, you can learn the whole process of tinplate manufacturing.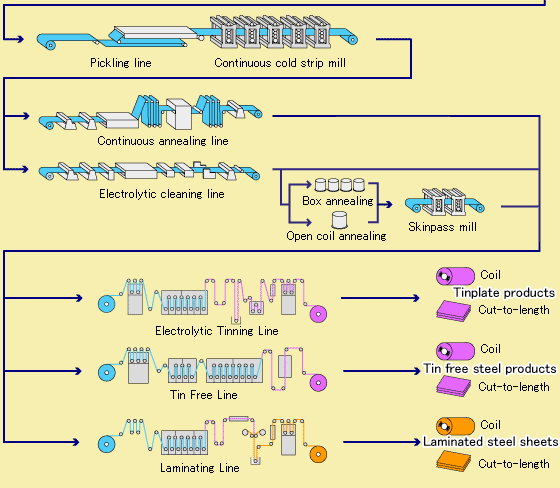 Tinplate production process as follows: tin plating of pickling low-carbon steel sheet → → softsolution processing → passivation → oiling → Check → shear → Category → packaging.
Tinplate by the metallographic analysis of its organizational structure as follows: a total of fivefrom the inside out.
(1) steel substrates. Can general with a thickness of 0.2 ~ 0.3MM.
(2) tin alloy layer. For the tin Ferroalloys structure, plating tin plate tin content to <1G/M2, hot-diptin plate for 5G/M2.
(3) tin layer. The tinned amount of the pure tin layer, electroplating tin plate the 5.6G/M2 ~ 22.4G/M2, hot-dip the tinplate 22.4G/M2 ~ 44.8G/M2.
(4) oxidation film. Mainly stannous oxide, tin oxide, etc..
(5) film layer. Cotton seed oil or dioctyl sebacate.