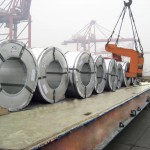 Specifications of Hot Rolled Steel Coil
Material: SPHC, SS330, SS400, Q195, Q235, Q345, 08AL, Q195L
Width: 145mm-2000mm
Thickness: 1.3mm-25mm
As a main steel exporter of steel products in China.
Varieties of hot rolled steel coils can be supplied with competitive price & high quality.
Welcome inquiry anytime. We are glad to serve for you. It is our honor to cooperate with you, my client.
Hot Rolled Steel Coil
Material: SS330, SS400, SPHC, SPHD, SPHE, Q195, Q195L, Q235, Q345, 08AL
Width: 145mm-2000mm
Thickness: 1.3mm-25mm
Technical process: Steel Billet, Heated, Rolled, Coil
Application: Welded pipe, Hardeware and Bicycle manufacturing and so on
Welcome to inquiry with your detailed information, We promise to offer you first-class price, quality and services.