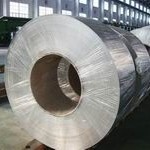 Electrolytic Tinplate Coil Supply including DR tinplate (double-reduced tinplate, the thickness from 0.12mm to 0.17mm); Cold rolling (the thickness from 0.18mm to 0.50mm), ETP with yellow coating & color printing, etc.
Tinplate coil/plate sheets ETP, Tin free steel(TFS), Tin free steel coil
I. Size of Tinplate, Tinfree Steel:
1. Range:
(1) Tin Coating: 2.8/2.8 g/m ~ 11.2/11.2g/m
(2) Thickness: 0.125 ~ 0.50mm
0.125 ~ 0.18mm are DR materials
(3) Width: 710 ~ 1200mm
2. Material quality:
(1) Standard: JIS G3303 or G3315
(2) Thickness tolerance: +/- 0.01mm
(3) Steel Grade: MR, SPCC
(4) Packaging: International Standard Export Package
II. Size of printing and yellow coating:
The yellow coating, brand, picture and other items of printing are based on customer's requirements.
Excellent Corrosion Resistance: By selecting a proper coating weight, appropriate corrosion resistance is obtained against container contents.
Excellent Paintability & Printability: Printing is beautifully finished using various lacquers and inks.
Excellent Solderability & Weldability: TIN PLATE is widely used for making various types of cans by soldering or welding.
Excellent Formability & Strength: By selecting a proper temper grade, appropriate formability is obtained for various applications as well as the required strength after forming.
Beautiful Appearance: Electrolytic ETP is characterized by its beautiful metallic luster. Products with various kinds of surface roughness are produced by selecting the surface finish of the substrate steel sheet.