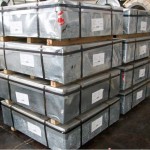 JIS G3303​ Tinplate 0.14mm, 0.17mm, 0.21mm, 0.28mm thickness available
1, Reference standard: GB2520-88, JIS G3303-1997 and DIN EN10203-91
2, Material: MR, SPCC
3, Thickness available: 0.145mm to 0.45mm

4, Width available: up to 1050mm
5, Temper grade: T2 – T4
6, Tin coating: Ordinary 2.8g/2.8g, 5.6g/5.6g, We also can produce according to customers' requests
7, Coil diameter: ID 420mm & 508mm, OD from 1, 000 to 1, 250mm
8, Package: Anti-rust paper, corner protected. By sheet or coils according customer's require.
9, Applications: Paint, chemical can and other usage can making, battery, electric cable and other industries
TYPE
Technical Agreement
Size for Sheets
Size for Coils
Application
T-2
0.2-0.5×800-1050×400-1200
0.2-0.5×800-1050xC
Mainly used for making food cans, beverage cans, and lid, or used as package material for chemical and medicine products. Type D steel has excellent deep drawing properties, can prevent LUDERS slip deficiency during can making.Type MR has excellent anti-erosion properties for normal containers making.
T-2.5
T-3
Q/WG(LZ)13-2009
T-3.5
T-4
T-5
ES MR-TH52
WJX(LZ)19-2008
Food Grade(ES)can be used for making varied kinds of food cans, beverage cans and another steel boxes.
ES MR-TH55
ES MR-TH57
ES MR-TH61
DR-7.5
Q/WG(LZ)13-2009
Double Cold-reduced electrolytic tinplate has advantages in its thin thickness, high mechanism properties and antierosion which used for making the lid for beer and carbonated drinks.