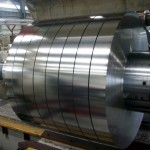 Narrow Width Slit Tinplate
Slit Tinplate Coil: Width from 2~599mm
Thickness as the integral number of 0.005mm.
Base Metal Class: D; L; MR
Thickness:
Single cold reduced: 0.17~0.55mm
Double cold reduced: 0.12~0.29mm
Tin purity: ≥ 99.50%
Coating: 1.0/1.0~11.2/11.2 G/M2
Temper tolerance: ± 5OC
Bright finsih, Pasivation 311, Dioctilcebacato Oiling,
Free of stains, dull zones, rust or marks due To friction.
TYPE
Technical Agreement
Size for Sheets
Size for Coils
Application
T-2
0.2-0.5×800-1050×400-1200
0.2-0.5×800-1050xC
Mainly used for making food cans, beverage cans, and lid, or used as package material for chemical and medicine products. Type D steel has excellent deep drawing properties, can prevent LUDERS slip deficiency during can making.Type MR has excellent anti-erosion properties for normal containers making.
T-2.5
T-3
Q/WG(LZ)13-2009
T-3.5
T-4
T-5
ES MR-TH52
WJX(LZ)19-2008
Food Grade(ES)can be used for making varied kinds of food cans, beverage cans and another steel boxes.
ES MR-TH55
ES MR-TH57
ES MR-TH61
DR-7.5
Q/WG(LZ)13-2009
Double Cold-reduced electrolytic tinplate has advantages in its thin thickness, high mechanism properties and antierosion which used for making the lid for beer and carbonated drinks.