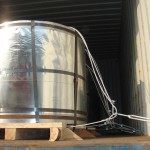 Characteristics of Tin Free Steel Coil / Tin Free Steel Sheet
Appearance: Even when the same surface finish as ETP is applied to the substrate steel sheet, it provides the unique surface luster characteristic of metallic chromium.
Corrosion resistance: As it has excellent corrosion resistance after painting, it is generally used with both surfaces painted. It can also be used with the internal surface unpainted, depending on the contents.
Solderability: TFS is not compatible with soldering.
Weldability: Although TFS can be welded when the metallic coating layers are removed, its weldability is inferior to ETP.
Coating weights: Unlike the multiplicity of coating weights with tin, only one standardized chromium-coated product is manufactured.
Standard: JIS G3315 ASTM A657
Thickness:0.125~0.60mm
Width: 700~1050mm
Coil ID: 405/508 mm
Temper Single Reduced: 49~65 HR (T1BA~T5CA)
Double Reduced: 73~80 HR (DR8~DR10)
Coating: 90~140 (mg/m2) regular including Metal Chromium and Chromium in Oxide