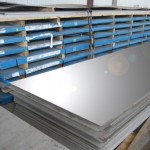 5000 series typical alloy: Aluminium Sheet 5005, Aluminium Sheet 5052 5005, 5050, 5754, 5082, 5083, 5086 etc
Temper: F, O, H111, H112, H32, H34, H38, H12, H22, H24, H34 etc.
Thickness available: 0.2~6.0 according to different temper
Width: 700~2000mm available
This specification covers aluminum and aluminum alloy flat sheet, coiled sheet, and plate in the alloys
Alloy and temper designations are in accordance with ANSI H35.1.
Equivalent standard in Chinese: GB/T3190 for chemical composition and GB/T3880 for mechanism properties.
General Quality:
Unless otherwise specified, the material shall be supplied in the mill finish and shall be uniform as defined by the requirements of this specification and shall be commercially sound. Any requirement not covered is subject to negotiation between producer and purchaser.
Each sheet and plate shall be examined to determine conformance to this specification with respect to general quality and identification marking. On approval of the purchaser, however, the producer may use a system of statistical quality control for such examinations
Description for instance
5005, 5050: Very similar to 3003 in physical properties and corrosion resistance though slightly lighter. Recommended for anodized applications for best match with extruded aluminum components.
5052: A versatile alloy for applications requiring greater strength. Readily formed, very good corrosion resistance. Recommended for applications requiring high strength and formability.
5086: Recommended for welded assemblies requiring both welding efficiency and high joint strength. Good corrosion resistance. Typical applications include pressure vessels, marine super-structures and transportation equipment.
Paper interleaved, PVC Film to protect the surface
Alloy

Temper

Thickness in Sheets

Thickness in Coil

5182

O

>0.20~3.00

>0.20~3.00

H111

>0.20~3.00

—

H19

>0.20~1.50

>0.20~1.50

5A03

F

>4.5~150.00

—

H112

>4.5~50.00

—

O、H14、H24、H34

>0.50~4.50

>0.50~4.50

5A05、5A06

F

>4.5~150.00

—

O

>0.50~4.50

>0.50~4.50

H112

>4.5~50.00

—

5082

F

>4.5~150.00

—

H18、H38、H19、H39

>0.20~0.50

>0.20~0.50

5005

F

>4.5~150.00

>2.50~8.00

H112

>6.00~80.00

—

O

>0.20~50.00

>0.20~6.00

H111

>0.20~50.00

—

H12、H22、H32、H14、H24、H34

>0.20~6.00

>0.20~6.00

H16、H26、H36

>0.20~4.00

>0.20~4.00

H18、H28、H38

>0.20~3.00

>0.20~3.00

5052

F

>4.5~150.00

>2.50~8.00

H112

>6.00~80.00

—

O

>0.20~50.00

>0.20~6.00

H111

>0.20~50.00

—

H12、H22、H32、H14、H24、H34

>0.20~6.00

>0.20~6.00

H16、H26、H36

>0.20~4.00

>0.20~4.00

H18、H38

>0.20~3.00

>0.20~3.00

5086

F

>4.5~150.00

—

H112

>0.60~50.00

—

O/H111

>0.20~80.00

—

H12、H22、H32、H14、H24、H34

>0.20~6.00

—

H16、H26、H36

>0.20~4.00

—

H18

>0.20~3.00

—

5083

F

>4.50~150.00

—

H112

>6.00~50.00

—

O

>0.20~80.00

>0.50~4.00

H111

>0.20~80.00

—

H12、H14、H24、H34

>0.20~6.00

—

H22、H32

>0.20~6.00

>0.50~4.00

H16、H26、H136

>0.20~4.00

—